"And though she be but little, she is fierce."
-William Shakespeare
"In 1979, Pat Benatar grabbed the rock-n-roll world by the throat and slapped it around in a way that perhaps only Janis Joplin had done before. She was a commanding woman with a powerhouse voice and sex-appeal."
-Jeff Maisey, Portfolio Weekly (Norfolk, VA)
"Whether doing her new material or her hits from the eighties, Benatar delivers each song with the energy and passion of a young hopeful who has been told there are some important record people in the audience.... while at the same time possessing the precise control, stage presence and delivery that comes from years of commitment to being the best she can be."
-WhatsDoingTonight.com (2006)

"She is not only classic rock, she is the classiest woman in rock."
-Steve Joseph, Coordinator, Buffalo Place Events
"My upbringing, and the values and ideals I learned back in my hometown kept me grounded. I never forget that a small town girl from Lindenhurst LI actually got the chance to live her dreams. Long Island girls ROCK!"
-from Pat's induction acceptance letter into the Long Island Music Hall of Fame (2008)
(Click here to read her letter in it's entirety.)
Classy and classic, cool and confident, passion and bravado. These are just a few of the words that can be used to describe Pat Benatar. It may be over twenty-five years since she was first breaking on the music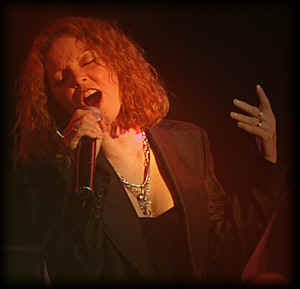 scene, but the fire and passion that was burning then is still burning just as brightly today. She's a timeless performer whose accessible music touches the hearts of fans of all ages.
As the reigning queen of rock 'n' roll, she's given us a lengthy list of classic hits such as Heartbreaker, Promises In the Dark, Loves Is A Battlefield, We Belong, Hit Me With Your Best Shot, Hell Is For Children, Shadows of the Night, Invincible, All Fired Up, Fire and Ice and many more.
In the 90's, she kept a much lower profile raising a family, but continued to be active recording and touring. She and her husband, Neil Giraldo, produced such diverse albums a the bluesy True Love, the rockin' Gravity's Rainbow and the contemporary Innamorata; and have continued to tour relentlessly to enthusiastic audiences across the country. Synchronistic Wanderings in 1999, capped off the decade with a comprehensive retrospective of her first twenty years as a recording artist. It includes all the hits, hard to find soundtrack and tribute tracks, as well as an incredible early demo of Roy Orbison's "Crying".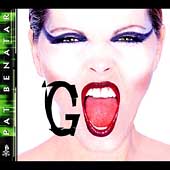 In the new millennia, Pat and Neil released an album of new material titled "GO" in 2003. Backed by Neil's driving guitar, it's "classic" Pat for the new century! Her vocals are undiminished and as strong as ever. She rocks on tracks such as "Go" and "Have It All"; and shifts effortlessly to ballads, "Please Don't Leave Me" and "Out of the Ruins", which showcase the pure beauty of her voice.
DVDs were released for Choice Cuts, which features ALL of Pat's videos and a number of bonus tracks. Cherry Red Records re-issued Summer Vacation - Live (from the 2001 tour) on DVD, the CD is available on Lemon Records.
A complete album discography with lyrics is available at the Pat Benatar Fan Club website, as well as the latest news and schedule of all upcoming appearances.
Pat has been profiled on Lifetime's Intimate Portrait, VH-1's Behind the Music and A&E's Biography. She appeared on the highly acclaimed Crossroads on CMT (Country Music Television) with Martina McBride, in a performance in which these two highly talented women "burned down the house" with powerful performances that pleased both rock AND country fans alike. She made a guest appearance on Emeril Live on the Food Network demonstrating her prowess in the kitchen and on stage. Pat made a dramatic appearance on Family Law in 2001, and she and Neil have appeared on Charmed and Dharma and Greg. Most recently they were "soap stars" on The Young and the Restless.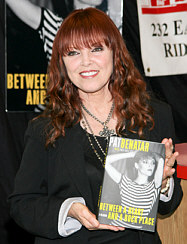 Photo by PR Photos
2010 saw the release of Pat's long awaited autobiography, Between A Heart and A Rock Place. It's an engaging and intimate look behind the glitz and the fame.
"For 30 years, Pat Benatar has been one of the most influential women in popular music. Now, this rock legend tells her story as she saw it, recalling her rise to fame, life in the MTV generation, her tours, the fans, and how she managed to avoid the trappings of rock stardom. From sold out arena tours to her incessant battles with her record label to her love for her husband that kept her grounded, this book offers an open and fascinating look at one of rock music's most storied performers." (Harper Collins)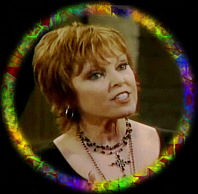 Le Museum de Benatar is an historical tribute to Pat Benatar and is an attempt to display some of that history through collectibles. The galleries contain examples of collectible vinyl singles, picture discs, compact discs, LPs, "vintage" articles as well as some "computer art" and more. It's not a definitive collection, but a sampling of rare and not so rare collector's items. Be sure to visit the "Archives" and poke around in the "nooks and crannies", you might be surprised at what you find. Welcome to Le Museum de Benatar, hope you enjoy your visit!
Your comments and suggestions are encouraged and welcome.
---
Special thanks to Joe Cross and Pat Benatar. Joe, for the encouragement to do this site. Pat, for the inspiration, great music and for being the fantastic lady she is.
---
Created 2/1/98
Harold Bottomley