The multi-talented Liz Aday is one of many artists influenced and inspired by Pat. Be sure to check out the latest incarnation of Superlush as well as AQUA VINYL another of the many projects Liz is involved in.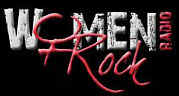 "Women Rock Radio…the name says it all. Women Rock Radio is the premier showcase for women who simply rock, and rock hard. From rock to grunge, from metal to punk, from mainstream to indie… this ain't your mama's radio station! Women Rock Radio is out to prove you don't have to be a guy to play "balls to the wall" music, and ladylike isn't always what it seems!"