This article appeared in the Chicago Tribune, June 7, 1993.
She Still Belongs
Pat Benatar, at 40, is back in the game with a tour, new album.
-Brenda Hermann
Men in rock are allowed to get old. It's not always pretty, but from Mick Jagger to Elton John, Steven Tyler, Neil Young, Paul McCartney or even Fabian, there are plenty of men still rocking through their 40's, 50's and beyond.
Tina Turner aside, women rockers have tended to fade away or turn to singer-songwriter positions, "mature" into adult contemporary like Olivia Newton-John or fall back on folk or standards a la Linda Ronstadt.
Only in the last few years have women 40 and older - following the likes of Turner, Aretha Franklin and Stevie Nicks - been allowed to age alongside their male counterparts. Even Lulu ("To Sir With Love") is back with a hit.
So put Pat Benatar back in the game, too.
Benatar, 40, recently released her first rock album in four years, Gravity's Rainbow, and will appear at 9 PM Tuesday in the Park West.
Two years ago, it seemed as if Benatar was giving up the wild life to join the more respectable ranks of blues singers when she released her only blues album, True Love.
Benatar now says that album was a diversion, a fun thing, to help get her revved up to rock again.
"It was something refreshing to do," she says. "I'm a big junkie for the blues and at that point in my life, I didn't feel I could make another contemporary record."
"Making the blues album, I think, helped give us the spark to make this one because it got us excited about making music again."
For an artist like Benatar, getting older can be especially dangerous to one's career.
For starters, much of her early career, which exploded with "Hit Me With Your Best Shot" in 1980, was built around her image as a tough metal chick and a sex kitten - something she fought but couldn't conquer.
"I was the girl in metal then," she notes. "Man, that was a whole lifetime ago. And they always picked the worst photos to run of me from back then - where you have the worst haircut or the oldest picture anyone could possibly find."
"When we started, there were no videos, there was no MTV," she continues. "And then it started up and our videos were played all the time - it's like those images of me are burned into everyone's mind for all time," she adds, chuckling as she recalls the video for "Shadows of the Night" in which a pilot Pat helped defeat Hitler's army.
Nowadays, Benatar is more likely to be spending time with her 8-year-old daughter and husband/guitarist Neil Giraldo or penning more introspective lyrics than to be worrying over video plots or how much liquid eyeliner is enough.
"I'm just happy to be here," she says. "Turning 40 is no big deal really, but then again, when I was 18, I never thought I'd live this long. And I certainly never thought I'd still be making rock records and touring - I was just hoping to make it at all."
Gravity's Rainbow is rooted in both rock and R&B, with intense pop songs like "Somebody's Baby" and "Crazy" that are reminiscent of her earlier hits like "Invincible" and "We Belong."
Benatar's Park West stop is part of an 11-day club tour she's doing to introduce the album. she plans to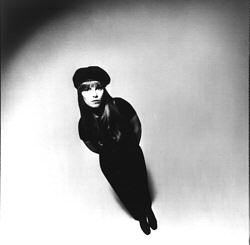 play theaters in August.
"We've played 'Arsenio' and at the Whiskey (in Los Angeles) already and it was great," she notes. "It was nuts, it was packed, it was hot, it was sweaty, loud . . . everything it should be."
"We do both old and new songs, too, so there are people from all my different phases there."
Giraldo and longtime Benatar band members drummer Myron Grombacher and bassist Frank Linx provide backup for the tour.
And as with previous albums and tours, Giraldo's unique playing style is evident and yet, as always almost unnoticed behind Benatar's perfect pitch.
"Neil's whole thing is to work - not to get attention. He just wants to get in the background and play, to write, to produce. And, of course, to tour, which is now a family affair.
"My daughter's a road dog - she loves going on the road," Benatar says. "What could be more fun for her than to have your own bus and have people paying attention to you all the time and to see all these new places?"
"She thinks we're really cool now . . . When she's older she'll probably think we're so uncool. She'll be like, "You go on the road for the summer and just leave me alone.'"
Images above from Chrysalis promo photos.
Pat Benatar: Defying Gravity
-John Everson
Pat Benatar is up two cups of coffee when she calls from her California home. It's early afternoon and she warns that she'll soon be talking 50 miles a minute. But the caffeine is not necessarily to blame: "I can't, like, sit down for five seconds - I'm such a wired maniac. I could never go to a room everyday with a job in mind. Not possible."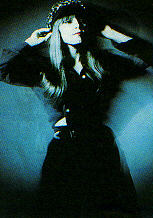 At 40, Benatar is an American rock icon and symbol to women everywhere that women can rock. Benatar, with longtime partners Myron Grombacher (drums) and husband Neil Giraldo (guitars), and bassist Frank Linx are currently poised to release Gravity's Rainbow, an album that brings the band back to where it started: straight-out guitar rock. There are no backing choirs, warm, cloying synths, nor processed guitars anywhere to be found here. Gravity's Rainbow is an honest, organic album.
"That's a good word," Benatar agrees. "It is more organic. It seemed to us that once we did the blues record (1991's True Love) the light went on. You really remembered what the hell you were doing it all for. And you knew that you didn't need all that techno crap to make really good records. It was just like getting hit by a two-by-four, you know? I needed a good smack. You get so the thing you do the least is the thing you love the most - which is make music - and all the other shit that goes with it is the thing you do all the time. It was good to kind of come back to where you're supposed to be."
Consequently, when Benatar and company set out to make Gravity's Rainbow, they decided to record it at home the way they wanted - no more outside writers, no glossy effects - just homegrown rock 'n' roll supporting Benatar's always enthralling pipes.
"Some of the songs that are on the record are from the tail end of the Wide Awake In Dreamland record," Benatar notes. "They were left over from that and we just embellished them as we went. We decided we wanted to do a record that was pretty much all originals, no covers, no nothing from the outside."
The result is one of Benatar's strongest entries in her 10-LP catalogue (11 if you count the greatest hits compile Best Shots). Opening with an antique piano muse ("Pictures Of A Gone World"), the album proceeds to drop the keys and slam into fifth gear with the first single "Everybody Laydown," and it doesn't drop below third the rest of the ride. The ballads- "Somebody's Baby," "You and I," and "Every Time I Fall Back" - are lighter anthems, and the rockers- "Lay Down," "Ties That Bind," "Disconnected," "Crazy," and "Sanctuary" - have Benatar wailing like she did a dozen years ago.
Lyrically, Gravity's Rainbow deals with themes like the pain of people losing their way and the self-reliance we all must gain in order to keep from "falling back."
"You know, I really spend most of my life sitting and raising kids and being a mother and doing all that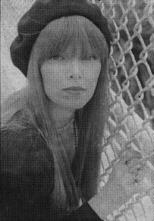 kind of stuff. I don't spend a lot of time being that other person who goes on stage, so I'm out there all the time looking at the way things are - and I'm not happy. Everything that I write about reflects that. What am I leaving my daughter? I see all this stuff going down that I really hate and I feel powerless. I can't do anything about it. This is the only way that I know how to make me feel any better."
Benatar is no stranger to "social" rock. 1980's "Hell Is For Children" deals with child abuse. On the new album, Benatar tackles whiny complacency ("put up or shut up," she warns) in "Everybody Lay Down," and the difficult subject of "lost" people in "Somebody's Baby."
"When you live in Los Angeles, it's not (homeless) stories: it's in your face. And the most frightening thing is that through time you start to know people who fade into the woodwork and disappear. These are not faceless people that you're removed from anymore, these are people who lose their way that you know - who are friends - and they just disappear. It's not only about being homeless per se, it's just about lost people. Where do they go? They start out, someone was holdin' 'em, someone was lovin' 'em...."
On the opposite side, there's "Everytime I Fall Back," which Benatar is quick to point out "is not a love song. It's written about self love. It's when you fall back, it's yourself picking you up. It's all pretty much up to you."
The album takes it's title from a Thomas Pynchon novel. "It's the most bizarre book," Benatar laughs. "I can't tell whether (Pynchon's) being brilliant or he's just bullshitting. It's all about man's inevitable race to destroy himself. I thought with all the angst going on on the record that this would be a good title."
These days, Benatar spends more time driving her eight-year old daughter to Brownie meetings while cranking Pearl Jam, Spin Doctors, and 10,000 Maniacs on the car stereo than worrying about artist angst.
"Once you become somebody's mother, your perspective is altered and you just don't look at things the same. Self gets put way down on the list of priorities - which is really good. It just kind of rounds you out. You have no time to be selfish and self-centered."
"To me, it was the best thing that I ever did. And she's still young enough to like my clothes! I figure there's about three years left of that and then goodbye. Then it's like (she imitates a nasal teen voice): "Oh God, mom, did everyone see you wear that? I'm humiliated!" Right now it's still 'Can I borrow your shoes mom? And I'm like, 'You can't borrow my shoes, you're eight!'
Keeping the balance between rocker and mom seems an easy effort for Benatar. And at this point in life, rock's favorite "Heartbreaker" is simply enjoying her prosperity.
"I waited a long time to be 40 because I knew it was really gonna be good - and it really is. It's the greatest thing because, man, you can stand there and go, 'Don't give me any shit. I'm 40, I'm someone's mother O.K.?' I keep telling my husband he better get ready. Fifty is gonna be sooooo good!"
Top image from promo phots, second image from unknown newspaper.
This is from Creem, September, 1993 in a section called "Opening Riffs."
Pat Benatar
-Tom Lanham
Seated on her manager's office couch, looking every inch the hip '90s hausfrau in black jeans, Doc Marten oxfords, and loose, swooping sweater, Pat Benatar is struggling to find the correct metaphor for her career. The platinum popster suddenly leans forward, her big doe eyes even wider with excitement: "Have you ever seen Midnight Express? There's that scene where they're all walking in a circle and the guy starts going the other way." But what does Alan Parker's grim tale of life in a Turkish prison have to do with Benatar, other than the fact that both were unleashed on the public in the late '70s?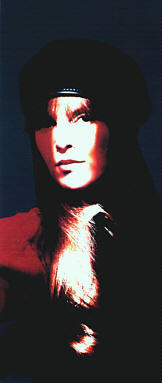 "I've spent my whole life walking the other way," explains the singer, whose recent experiment with the blues, True Love, received a sound thrashing from the rock press. "It's either that (critical slurs) or people saying 'women can't rock - this is bimbo rock.' And why are they saying that? Am I making them afraid? What is it that I'm doing that's bothering them so much?" Benatar stops to think about the heels-and-leotards image that's dogged her since her sassy In The Heat of The Night debut. "The great thing about being 40 is you don't give a fuck," she says, chuckling and settling back into her seat. "I really don't care what they say."
Forty? I'm dumbfounded for a couple of reasons. One, Benatar - her once-pixied auburn tresses now hippie-long, with bangs almost down to her eyelashes - looks like some fresh-faced kid beamed in from the optimistic '60s. And two, her latest disc - the subtly political Gravity's Rainbow - is really her 11th. Has that much time passed since the halcyon "Heartbreaker" and "Treat Me Right?" This dynamic diva hasn't merely grown up, she's grown wiser, more adept at delivering her heartfelt messages.
Named for the ponderous Thomas Pynchon tome, Gravity's Rainbow is a dizzy vortex of styles and concepts. Over husband/producer Neil Geraldo's scruffy chucka-chucka riff, "Everybody Lay Down" contemplates modern society's general apathy and malaise, the idea that nothing you do could possibly change things on a grand scale. "But it's not enough to just live every day," avers Benatar. "The whole theme of the record is the same - you have to have consequence of action. You just can't go through life saying all those stupid buzz-phrases that everybody says to make it justifiable. I think we should help somebody every day on a personal level - don't wait 'till there are 30,000 people in a room to stand up and preach your brains out. Do it every fucking day."
Tough talk. But surprise! Benatar's turned into one tough cookie. "He used to be somebody's baby/He used to matter," she warbles in the deceptively upbeat anthem "Somebody's Baby," and it could be about any number of social outcasts, from the homeless to serial killers. The lyrics ponder what went wrong; how did this person tumble so far off-track? And you shudder along with the artist in "Disconnected" as she watches her city of Los Angeles burn during the King-verdict riots, feeling a mother's fear for her grade school-age daughter. What parent would want to send his/her child out into such a violent world?
In fact, the only light moment on Gravity's Rainbow is the gossamer, cloud-like ballad "Every Time I Fall Back," a charming love song that'd be perfect for the cartoon Fievel repertoire, alongside his hit "Somewhere Out There." "I don't know where that one came from," says a puzzled Benatar. "I wrote it in a lumberyard, waiting in the car, while Neil was getting lumber."
When he's not toting planks, Geraldo does his best to keep his wife from reading the headlines and watching the evening news. "Because he knows I go nuts," Benatar admits. she's already beginning to get worked up over the Democratic program which she likens to "putting a band-aid on gangrene - this is gonna take forever to fix. I can't watch the news and think, 'Oh, that's terrible!,' and that's the end of it. It can't end there for me." Hence, her new poetry's social consciousness.
But watching late-night television can be dangerous in other ways. For example, Benatar might accidentally tune into a showing of the camp classic Fast Times At Ridgemont High, which featured several schoolgirls sporting the "Pat Benatar look." "Oh God!" the role model cries today, "There I am, immortalized! And I wish they would've picked a better look, too." Being a thoroughly modern Millie does have its drawbacks. While doing tour song selections, Benatar seriously reappraised her catalog for some upcoming Gravity's Rainbow shows, and it wasn't easy. "Seeing early photos of myself, it's frightening. It's like looking at baby pictures," says the hard-working mom. "Guitar licks are timeless - music holds up. But lyrics are commentary and pertain to time and place. Like "Heartbreaker" - it's a little dated now to sing. Whaddaya mean, 'Love-taker, don't you mess around with me'? What the hell is that all about? I can't be singing stuff like that anymore!"
Image was part of the above article.