Article and concert review from the Prairie Sun, August 22, 1981, Vol. 5, No. 24
THE PRETTY POWER OF PAT BENATAR
-Abby Rubman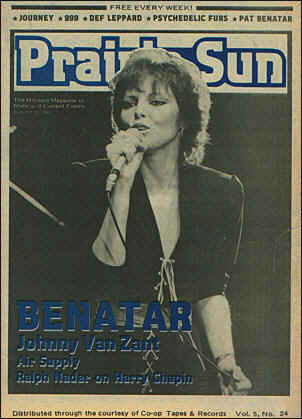 One of the more monumental success stories, this side of 1980, belongs to Pat Benatar. Ever since her first album, In The Heat Of The Night, slid up the charts, it's been a favorable time for the talented singer. Her second LP, Crimes of Passion, quickly turned platinum as well as garnishing three hit singles, "Hit Me With Your Best Shot", "You Better Run" and "Treat Me Right".
Her newly released Precious Time features the collective musical talents of Benatar, lead guitarist Neil Geraldo, bassist Roger Capps, guitarist Scott Sheets, and drummer Myron Grombacher. Though the personal side of the Benatar-Geraldo relationship has cooled, the writing partnership continues to offer some top-notch material.
Now, with Time being the number one album across the country, and a continued string of sold out shows, Benatar's reputation as the queen of rock remains, unchallenged.
In the midst of a nationwide tour, Benatar phoned during the band's stay in Philadelphia.
Prairie Sun: Since the release of your debut album, you've done commercially and critically well. Do you feel success has come too fast?
Pat: Maybe, emotionally, it came too fast for me. It took me a lot of time to catch up. I was always running behind. I spent a lot of time in New York before it happened. I don't think that dues paying-wise it came too fast. I just think I was extremely lucky, that I had to go through three years of real pain and starvation, not ten years. For me, it's good 'cause I'm not bitter. I'm having a real good time.
Prairie Sun: When you and other female vocalists appeared nationally, it was you that quickly rose to the top. Do you feel like a role model?
Pat: Maybe musically. I think that when we all came out together, it was time for female rock 'n' roll singers to emerge, again, I think definitely somebody was meant to be the model. I'm not a fad because I lasted more than a year. I always thought there were alot of female singers before, so I can't think that I'm now the role model for the new kind of female rock singer. I think it's the person who's the biggest and the most current that they choose.
Prairie Sun: Was it in the back of your mind that your second album was so successful,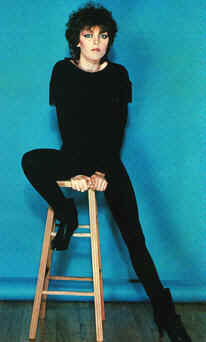 so this one better be just as good?
Pat: When we first started writing it, that was what was on my mind. Crimes of Passion was quadruple platinum. What if this record doesn't sell? Once I began to like the songs and the record, I didn't care if it sold any. This record we had lots of time. We had practically the whole record written by time we went in the studio. Everybody was relaxed. It was a reflective time for us.
Prairie Sun: "Promises In the Dark" starts off slow like a ballad then turns into a real rocker. Do you prefer one type of song over another?
Pat: I mostly prefer to sing driving rock songs. I'm trying to ease in ballads. Sometimes, there's a lot of things you can say. It's a real special moment with an audience when you're doing a ballad, it's also a very vulnerable moment. It's real difficult for me. That's why I'm doing just a little piece of this one on this record. The next record, I'll try and write a whole ballad.
Prairie Sun: Do most of the songs you write come from personal experience?
Pat: Neil usually writes from personal experience. I usually write from an observation point of seeing someone else's situation. This record was probably the most personal to me.
Prairie Sun: How hard is it for you to write a lyric?
Pat: Sometimes it takes a while. On "Evil Genius" it took me three weeks to write one verse. Sometimes, you can't get exactly what you want. Neil and I do everything together. It's so mixed together that I couldn't even tell you who wrote that. We switch back and forth. When I write with outside writers or other guys in the band, it's a little difficult sometimes. Usually what I do is that they come in with songs half-finished, and I just make them more palatable to me.
Prairie Sun: With your first and second albums, you had a very sexual image. You have made a definite point to change that image.
Pat: When I came out, I had no intentions of being what they produced. They used it as a marketing point which was OK, because what I do on stage is a sexually aggressive kind of thing, but it's not overtly sexual. I didn't mind them mentioning it, but the over emphasis that was put on it pissed me off. I figured the only way to keep them from doing that was to never give them the opportunity. We had discussions about it. The record company knows that I just don't want it. They're doing their best to put a lid on it. It's a strange situation when you're being patented, like toothpaste.
Prairie Sun: When did you first realize they were doing this?
Pat: During the second record I opened up a page in Billboard. They had taken the album cover picture and airbrushed my top off, so it looked like I didn't have any clothes on. They did these things when you're gone, you don't have any idea. From that moment on, I had it written into my contract, that no pictures were allowed to go out without approval. It's something that as you grow, you have more power over.
Prairie Sun: You're doing very well and hopefully will continue to be successful. What will you be doing five years from now?
Pat: I know this probably can't last forever. I will be doing records, but I'll probably be doing other things as well. I'd like to start raising a family. When I'm 35, I'm not going to be able to play two hour shows for months at a time.
Review-Pat Benatar Live In St. Louis
-Darrell Shoults
My mind began playing quirky little tricks on me as I watched Pat Benatar work out in the cut-in-half Checkerdome in St. Louis recently. Her subdued sensuality was fascinating, a mystique heightened by her skin-tight, Mephistophelean gold-and-black outfit and the seldom-changing pulsating beat of her music. And I began to conjure up strange visions:
...If Gerald Diamoan, the Deep Throat film producer, ever wanted to do an erotic version of Shakespeare's "A Midsummer's Night Dream", Pat Benatar could be his slightly sadistic Puck.
...If in her dreams Marie Osmond acts nasty, her onstage behavior probably would be a lot like Pat Benatar's.
...If Jim Morrison could be reincarnated as a waifish songtress with a lithe dancer's body and an inviting smile, he'd wind up looking a lot like Pat Benatar. And given Morrison's predilection's toward eroticism and darkness, he'd probably sound a lot like her, too.
Benatar doesn't sing about dead horses or killers who awoke before dawn like Morrison, but like the departed Doors' frontman, Benatar projects an aura of smoldering sexuality on stage. her music throbs with a steady, precise bass and drum work that speaks to the midsection as much as the brain.
In concert, then, Benatar's visual appeal and the way the red and blue lighting adds to the somewhat illicit feeling in the air underscores what her recorded material already evokes. Many of the songs she performed ("Precious Time", "Treat Me Right", "We Live For Love", "Fire and Ice", "I Need A Lover" and "In the Heat of the Night") concerned themselves with love, emotional as well as sexual. "And those songs, perhaps even more than her big hits ("Hit Me With Your Best Shot", "Heartbreaker", "No You Don't" and "You Better Run") benefit from being live. The big hits, rendered in true-to-the-album format, remained static, and while they were enthusiastically received, they gained little by the performance.
Another nice thing about Benatar's concert is that her sidemen get a chance to shine, especially guitarist Neil Geraldo (who co-writes many of Benatar's songs) and drummer Myron Grombacher. Geraldo gets a chance to display his diverse talents, one moment getting deep into Heavy Metal, the next playing a languid blue intro, and then maybe turning out a few searing slow lead licks, reminiscent-perhaps coincidentally-of the work of Doors guitarist Robbie Krieger. Grombacher, meanwhile, treats his drumset as if it were a gymnastics mat, bouncing all over his riser and playing from damn near every imaginable contortion.
One song that deserves particular mention was "It's A Tuff Life", a tune with a distinct reggae flavor. The number doesn't stand out, but the fact that Benatar and band are willing to stretch into different forms is laudable.
Benatar's act followed a searing performance by Billy Squier, whose 45-minute opening set was warmly received and who gives indications of being a dark horse in the race to rock stardom. Squier performed admirable renditions of the songs from his recent album, Don't Say No.
But without question, it was Benatar's night. The way she sings, the way her band performs, and the way she moves work in harmony to create a crowd-pleasing show. And if you've a mind to spin fantasies, seeing Benatar live can provide interesting dreams, indeed.
Photos not part of original articles.