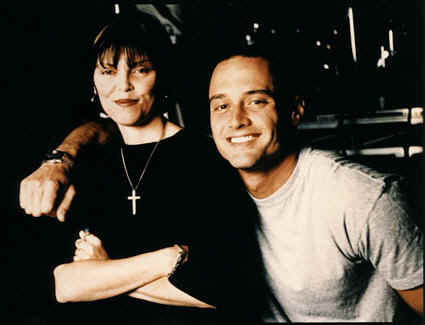 This interview by Tim Boyce originally appeared in edited form in the September 1996 issue of Interview Magazine titled "Frock 'n' Roll: Benatar Seminar". This is the complete interview and photos reprinted here courtesy of the author. Thank you, Tim!
Pat Benatar's story has now become the stuff of rock legend - how the little girl from Lindenhurst, Long Island became an overnight sensation after being discovered at Rick Newman's comedy club – "Catch a Rising Star". Her timing was perfect; the sexy bad – girl image was tailor made for a new, small cable channel that called itself MTV.
Riding the video wave, Pat went onto earn four Grammy's and sell 30 million records worldwide. Paving the way for Alanis, Courtney and the rest of today's divas, she was a music pioneer at a time when rock n' roll was strictly a boy's club.
Now living in Malibu with her husband/guitarist Neil Giraldo and their two kids, Benatar has begun to explore a softer, more acoustic oriented sound. With a voice and style that has often been imitated but never matched, Pat is back this fall with a stateside tour, a compilation record ("Heartbreaker - 16 Classic Performances") and a new album due in October. We sat down recently and talked about the music, the eyeliner, and those damn black tights.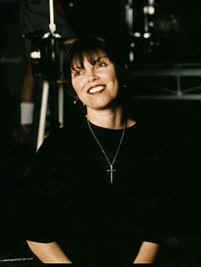 Tim Boyce: Did you know that the first time I met you I was 12? I remember going backstage after one of the shows and thinking, "Wow! I'd never seen a famous person that close before!"
Pat Benatar: Hey, Neil- I've known this kid since he was 12! My God! (laughs) You've done some growing since then, huh?
TB: Yeah! It's really fun seeing you guys play now because I feel like I'm out there cheering on an old friend.
PB: You didn't have to say old friend, Tim! (laughs)
TB: When you look back at old photos and videos, who do you see?
PB: It's like looking at baby pictures. You wish there was a way to like zap them and they would disappear--and all the copies of them everywhere on the planet would go at the same time. You've got amazing looks that you just go, "What the hell was I thinking of then?" Or you went to the hairdresser and some idiot fried you hair and you looked like Orphan Annie for six months. There are some other ones, though, that are really sweet--and you remember exactly what it felt like when you were doing it.
I saw the first time we were on American Bandstand, on VH-l and I just died. Neil was happy because he didn't have long hair. And I was thinking, "Whoa, what are you doing girlfriend?" Those were some amazing moves up there. I was hilarious­-it was like no one had ever seen this shit before--no wonder it worked! You're just so young and goofy--it's so funny to watch. And of course our daughter is humiliated--"Oh my God, you wore that? Well, Papa looks cool. You, however, are a geek!"
TB: How exactly did that look evolve?
PB: The look itself was a combination of old Sci-fi movies like "Catwoman of the Moon" with Zsa Zsa Gabor. One Halloween my friends and I went down to the village where they were having a costume contest at the Figaro Cafe. Well, I won and afterwards we were headed back up to Catch where I performed. Now I had been singing up at Catch for at least a year at this point, and response had been good. But when I got up there in this get up, the crowd went berserk. I had on the tights, and a black jacket, and my eyeliner, but it was a whole different thing--I was in costume. At that moment, though, I knew I had something. So I dressed like that the next night, and the next night, and that's basically how my stage persona evolved.
I love when people say that this was some sort of corporate decision. I was way too naive to even dream that up. I was just worrying about making enough money to buy toilet paper that month.
TB: What's the most embarrassing thing you've ever worn on stage?
PB: You don't have enough paper, kid! (laughs) Probably the most embarrassing thing I've ever worn was at the Bottom Line in 1979. It was a tiger shirt that had a little collar around the neck and it was cut out at the shoulders--unbelievable. I wore my hair in this Pebbles Flintstone thing on my head--it was horrific. I also wore this purple zebra jumpsuit a few times. You have to understand that punk was still happening and all this new wave stuff was popular. No one was really doing what I was doing, so I was just going on the blind. Every week I was trying something new. It was really exciting because there was no plan--I was just making it up as I went along--good or bad--I made some amazing mistakes, but every once and awhile, I would come up with something great. And then there are the photos documenting everyone of them. (laughs)
TB: Recently there was an event in the East Village called the Pat Benatar Seminar-­NYC's drag queens performing their favorite Benatar tunes--it was amazing!
PB: Get out of here--you're just making this shit up! How come you don't call me up for that? I would have loved it. How many of them were wearing headbands? They always pick the fucking worst look you ever had--and everyone has got to wear that one! That's like the surreal shit that happens--it's great.
TB: Does it frustrate you that no one's ever paid much attention to say what Mick Jagger has ever worn?
PB: Why is it ever different for guys? I have lived on this planet for 43 years, I'm raising two daughters, and I don't even know how to explain this phenomenon to them. I still don't understand what the hell it is. It's got to be like dogs and cats-­it's not going to be the same ever, that's it, THE END. I used to walk out of board meetings with Chrysalis with everyone staring at my ass. This makes you crazy-­one minute they're talking about the revenues that you're making for them, and you know how important you are to them financially, and the next second they are looking at you like a piece of meat. I don't know that there is anything you can ever do about that.
TB: Back in the late 70' s, what kind of resistance did you run up against as a woman rocker?
PB: It was insane. But, it wasn't an issue to me ever. It never even occurred to me that there was anything different about my doing it, then anyone else. It was such a shock--being turned down by every major label, to having radio stations tell you that they already had a female on their play list. I had people telling me, "You're too cute, you can't sing rock and roll. Look what happened to Janis Joplin. You should sing nice songs like Olivia Newton-John." All this did, however, was make me more crazy, more aggressive. It was so frustrating because no one would even listen. But then, about six months later, this miraculous thing happened--somebody thought this was a good idea, and all of a sudden, everybody thought it was a good idea. Somebody's accountant said, "You could make a lot of money from this," and they all said, "cool!"
TB: You're obviously paved the road for so many girls today--did you ever realize that you'd be such a pioneer?
PB: I don't know that while you're actually doing it, you're thinking that. I was so self--absorbed, I just wanted to figure out what in the hell I was doing.
TB: Why do you think you were given such a hard time about your image--when Madonna hasn't nearly received as much flack?
PB: I had been around a long time before she even started. You have to understand that the world changed incredibly during that five year period. It's very unnerving for people to see those kind of sexual images for the first time. Nobody really knows how they're supposed to react. It's easier for them to label you as a sex kitten, then to acknowledge any kind of real talent. I think Madonna is also very comfortable in that role. I got tired of that shit really quickly because it was so one dimensional. All I know is that I wanted it to be over very quickly, but the record company refused to let it go.
TB: Do you own any Madonna records?
PB: No, no. (Laughs) She is talented at what she does, and I give her so much credit. She's great, and anybody who's got anything bad to say about her, fuck them!
TB: I read an early quote of yours saying, "A lot of women singers today seem to be saying, 'If you love me then hurt me, I'll die.' I say, 'If you love me, then hurt me, I'll kick your ass'." "Why do think people love such an aggressive approach?
PB: Because people like people who are winners; nobody wants to hear a whiner. You have got to understand where that perspective was coming from--we're talking about the late 70's, and the woman's movement had just burst onto the scene, maybe ten years before. Everybody was fired up, but the unfortunate thing was that it swung so far the other way, that you had all this machismo in female form. I was just a little brat. I was so sick of hearing Lynyrd Skynyrd songs and having guys treat you like a little sex toy. There weren't really any women singing rock at the time, except maybe Linda Ronstadt, which wasn't something I could really relate to. I wanted to be the guitar player--I wanted to stand up there and say, "Why don't you come up to my room?"
TB: Well, people obviously responded to that. You became such a huge success; we're you prepared for it?
PB: I came from a real middle-lower class neighborhood on Long Island--it was nice, but no one ever had anything when I grew up. It was a great childhood, but I was so square--a real nerd--classical music and the whole nine yards. You know how benign I am, so you can only imagine how straight my parents were. When you come from that kind of background, it's in every pore of your body--you can't escape it. I always wanted to be much hipper then I was on the inside, but it never happened--I always stayed the nice kid from Long Island. When it got to point in the early 80' s, when I was surrounded by piranhas, it never became more glaringly apparent that I didn't belong there. I wasn't ever going to be able to compete, and I wasn't ever going to be comfortable there--so I had to make a choice. I'm sure that it was detrimental to my career--I'm sure that I could have gone that one more zenith had I stayed, but I don't care. I have no regrets.
I was always thinking down the line about having kids, and all I knew was that I didn't want to be one of those people who has to go with these guys with walkie ­talkies to fucking Disneyland. And for women, they put all this sex symbol bullshit on you. If I would have kept up that persona, I would have had to be worrying about all this other crap--you know, someday time marches on. It's very liberating to let that shit go!
TB: You mean when you started doing this there weren't any long term plans?
PB: I was just so grateful to be there in the first place, that I just wanted to get through the first year. I mean whatever you can get, you're getting. I don't know that you're really thinking about 10 years down the road. I didn't have that kind of vision—I just wanted to have fun. I was 26, and I didn't know shit. I wanted to play loud, and wear as much eyeliner as I could. Writing songs and playing in front of thousands of people--that's all we were thinking about.
TB: Your image as this tough, sexy rock and roll mama is cemented into people's minds. Does it bother you that fans still come to the shows expecting black tights and pumps?
PB: No, maybe ten years ago it bothered me because it was an issue. I don't care now-­they're not getting it, so I don't even feel obligated to go, "Oh, maybe I should ... " It's not remotely going to happen, so it doesn't bother me at all.
TB: So what have you guys been up to?
PB: Well, we've been working on this new album for the last year and a half. It's taken a long time--between the writing and recording. There's all this new stuff we've been trying--fiddles, violins--definitely more acoustic. We're leaving next week, (for the road) and I can't wait--it'll be like a vacation after this. The making of this record has been incredible--it's really hard work--with two kids and scheduling-­it's a nightmare!
TB: You guys have been touring pretty consistently for the last year--how' s that been?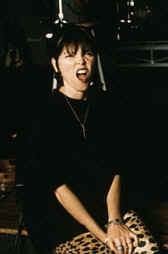 PB: Well, that's one reason this record has taken so long--but it's been great. Instead of doing it like we usually do, touring for three months and then finishing, we've actually been like a working band. When we go out in the summer, it won't be like starting from scratch, which is good, because at my age senility sets in, and I start forgetting lyrics!
TB: Is life on the road difficult?
PB: No, the road is easy, life is hard! (Laughs)
TB: One of the highlights of the new stage show is your amazing version of my favorite song, "Heartbreaker." I mean in New Jersey you had 10,000 fans at their feet. Why do think people respond so passionately to those old songs.
PB: I think I have to look at it from my perspective--as if I were them out there, and what would get me excited. We were driving over to the studio today and "She Loves You" came on--it's just nostalgic--it brings back times when you were deliriously happy. Life can get so complicated, so maybe it just reminds them of a time when things were much simpler.
TB: Because you are such a staple on VH1's "The Big 80's" and American Bandstand, do you think your music is reaching a new generation?
PB: I hear that, but it's not like Tony Bennet, yet! (Laughs). Maybe in 10 more years, which will be great, I'll be 53 and still singing "Heartbreaker." What am I going to do?
TB: I was backstage at Todd Oldham's fashion show and two very young models were wearing Pat Benatar jerseys. Did you know you were so cool?
PB: Absolutely! (Laughs) It is such a bizarre thing--nothing was really meant to last as long as it does. I'm sure when Mick Jagger was 20, he wasn't thinking that he would still be around at 52. Even when you're around for 17 years, it takes on such a strange kind of existence. Seeing things come back around is so weird, especially when you're the person!
TB: You seem really comfortable with things these days--is it possible that you're mellowed out?
PB: In some ways, yes, in some ways, no. I still get mad, but I just deal with it differently. I have other ways of getting my point across now. (Laughs)
TB: Someone told me you're a librarian now.
PB: Who said that? (Laughs) Yeah, actually I just finished my librarian stint. Everything else that I do in life, I am two children's mother, and I do participate in school. I've always loved books, so I figured if I could get those little stinkers to read, it would be a good thing!
TB: Have Haley and Hana (Pat's daughters) ever sat down and watched mommy dance in the "Love Is A Battlefield" video?
PB: No, no! (Laughs) I don't even know where our Grammy's are. You know us, we're really low key about everything. Certain things just come on television, and that's when they see it.
TB: It must be great to still be able to make records and actually have a life, and not have to deal with all the trappings of success.
PB: Life is fucking great now! In 1981 when everything was at its ultimate peak was the most horrible for me. I think some people are cut out for that kind of thing, and some people aren't--it killed me. I couldn't understand why I ever thought any of this was going to be fun. It was an entourage of all these people whose job it was to make you so insulated, fearful, and pathetic. Not a very cool way to live your life!
TB: Out of all the girls out there now--Alanis, Courtney, Amos, Shirley Manson-- do you have any favorites?
PB: I like Sarah McLachlan, Tracy Bonham—and I love the Alanis Morissette record. I'm also really into No Doubt--she's so crazy--like Ethel Merman on acid!
TB: Any advice you have to the new girl on the block vying for the crown as queen of rock.
PB: First of all, don't get sucked into that bullshit, because it doesn't exist. Do what you do, have a good time, and fuck everybody else. Life is too short.