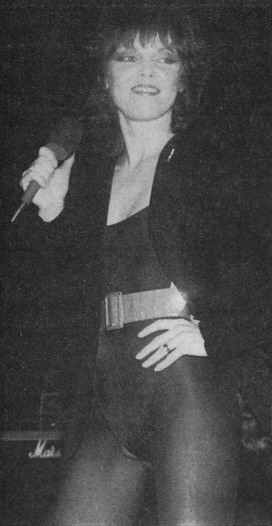 Small Talk

Rockers, December 1979/January 1980 (Buffalo, NY)
A stint at New York City's Catch A Rising Star is what sent this 26 year old singer from Lindenhurst, Long Island on her way. Pat Benatar has been touring the club circuit of America with "Heartbreaker," her hit single from her debut album, In the Heat of the Night, bringing the crowds in.
At her recent visit to Harvey & Corky's Stage 1, we spoke to Pat Benatar about her new success.
How are things going?
Great. I can't stand it it's so great.
It can't be that hard to take.
Because it's such a surprise, I didn't think it was gonna be so good. You know? You don't ever know...
Judging from some of the press I've read on you so far, you seem to take everything with great surprise. Don't you feel your talent was perhaps destined?
Yeah. But you never know, it's like when you get right down to the wire you feel it could go either way, you know? You get to the club every night and think, "what if no-one comes?" So far, though, it hasn't been like that. It's packed every night, whether we are opening or headlining.
Is the road wearing on you a bit?
A little bit. Not eating and the lack of sleep makes me a little tired.
Other woman musicians we have spoken to recently, In­cluding Carolyne Mas have ex­pressed their feelings on what it's like for a woman to go on tour with an all male band and road crew.
Well, for me I didn't think there was going to be a problem and I don't think there is a problem. But all the interviews I've done lately have asked 'Is It tough?' and all this shit. It's not tough. Everyone is good to everyone and I'm quite comfortable.
Even though you are the shor­test person on stage?
(Laughter) Really! I need a riser. But I never feel that there is a difference between anybody. And the fact of why it took so long for women to emerge in rock, I don't think had anything to do with someone holding us back. It's just that nobody had the idea.
How long have you been singing with a band?
A long time, since I was a little kId. But I was doing cabaret, not rock'n'roll or anything like that, so when I go to the Bottom Line (in New York City) it will be the first time.
What other lead singers in rock do you enjoy listening to?
If I had to pick a lead singer that was, like, a rocker, I'd pick Lou Gramm (of Foreigner), or someone like that. I like male voices, I don't like female voices. I mean, I like to listen to female singers, but not emulate them.
What type of music do you prefer to do?
I like to do some dinosaur stuff. But I like new wave and popular music a lot. Our next record will be new-waved out of its mind; it'll just have more gut rock n' roll.
To what do you attribute the success you've had so far?
I don't know because I never really planned on doing what I am now doing; I wasn't trying to do it. I don't know ... I just do what I like. I get Out there every night and do it. I just like to sing strong songs about real situations that men and women go through. I never heard songs about women getting kicked around and kicking back, Just songs about getting kicked around and going home and crying. I wanna sing strong songs.