"Cover Story: Pat Benatar"


New Vinyl Times, 1980, Vol. 1, Number 6

BEGINNINGS:
"I was working at a bank and when you look at that much money everyday….you start going wait a minute, why am I looking at all this money when I can do something? And maybe if I do it really good, I won't have to do this anymore. I won't have to look at this horrible room eight hours a day."
1975 TO 1977:
"I was doing horrible stuff. I started out doing show music, Broadway show music. Then I went into pop music, I started doing Barbara Streisand, Diana Ross, horrible embarrassing things. Then after that it was a little bit more risqué kinds of things. It just kind of gradually shifted into rock."
OPERA EXPERIENCE:
"It always stays with you. There's nothing you can do about that training. When you train six hours a day like that, it stays with you. And it can either help you or hurt you. I try to make it help me, because it gives me a lot of stamina and it stretches my range, I can go forever."
NEXT ALBUM:
"We were going to call the album "Crimes of Passion" because there were a lot of songs about violence on it. It's not like it's a heavy album, but there are more statements on here this time. It's not just about love relationships. There is one song on parents and children, a child abuse thing. Then there's a song about an obsessed person who's in love with a film star called "Out of Touch". It's about how he knows he can never get to that person. We're a little more introspective on this album. For good or for bad. It's much more of us than the first one."
DOING A 2nd ALBUM:
"It freaks you out. You're so petrified you think, 'Oh God, I have to do this again and I have to do it better.' It's like everybody's out there waiting to rip your face off."
MEN/WOMEN IN ROCK: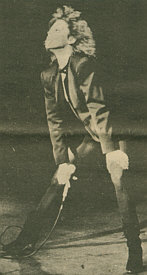 "Why is it that for 25 years of my life I had to listen to songs like "What's Your Name Little Girl?" and songs like "Women In Aeroplanes". Then I sing a song, "You're a Heartbreaker," and people want to call me a female chauvinist. This is not true, this is called getting even."
IMAGE:
"People ask me, 'What is it like, it must be really weird at home'. I tell them, what do you think I do, iron in a garter belt, are you crazy? This is show business. This is my act. I do this."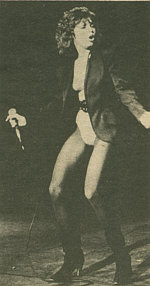 THE LOOK:
"The outfit came just from trial and error. I can't sing with my legs covered, I can't do it. For some reason I need the freedom of being able to move like this. So, tights were what worked. That was the basic reason. It evolved from just a total comfort thing, because I can't wear jeans and sing, I can't, and I won't wear a dress."
BEING DISCOVERED: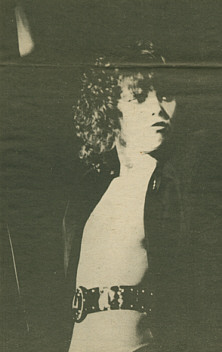 "I came in from Virginia one night. I had straight red hair and I wore a dress. I sang a Judy Garland song and I don't know what happened, I never sang in New York before in my life, even though I grew up there, everybody just went crazy. I didn't do anything spectacular. I don't know what happened, it was just one of those magical things. He (Rick Newman, manager of Pat Benatar and owner of the Catch A Rising Star Club) came right in and said, 'Let's talk about you playing here some more,' real movie material.
PERFORMING:
"All I wanted to do was to sing really hard rock 'n' roll kind of music but be female and not wear leather pants and not look masculine. I wanted to be able to wear make-up and still look like a girl but rock. I didn't want to be like Patti Smith."