Illinois Entertainer, December, 1979
THE NEW WOMEN: GUTS AND GLORY
-M.J. Carroll
"A lot of women singers today seem to be saying, 'If you love me and then hurt me, I'll die.' I say, 'If you love me then hurt me, I'll kick your ass.'"
-Pat Benatar (June 1979)
Pat Benatar is much more than a red-hot up and coming rock 'n' roll singer. She is a woman for the 1980s: not so much liberated ("I was always liberated.") as realistic. Unlike some of the current breed of female singers, Benatar knows her place in the world, knows what she wants out of life and isn't about to let anyone or anything stand in her way. She is determined to cut through the out dated ideas, chauvinistic attitudes ("Nobody treats me like a little girl.") and the producer's couch syndrome found throughout the music industry with ability and guts.
Blessed with a natural three-octave range (she gauges it at three and a half octaves), Benatar has been singing since she was "knee high in Long Island." She loved to show off her voice and performed in every musical, comedy and play throughout high school, yet was always led to believe that her voice was too pure and trained to do rock 'n' roll. She grew away from performing after school, and got married as was forced to move to the hills of South Carolina and Virginia with her army inducted husband.
After spending several months as a bank teller ("A real drag job."), her boredom and pent-up energy finally drove Benatar to begin performing in small clubs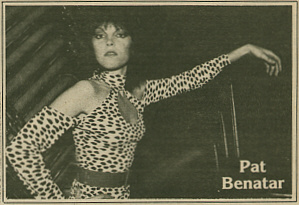 throughout Virginia. At one establishment, where she doubled as a waitress, Benatar was forced to sing "live Muzak on stage' while dressed in a flapper outfit, garters and all, but she endured, using the experience to build her confidence and poise, and to strengthen her already compelling stage presence.
By the time her husband was discharged and ready to return to New York, Benatar had dropped her cabaret style repertory in favor of top forty and Motown material and was eager to perform for more sophisticated audiences.
In 1975 she made her debut at a Monday night audition at New York's famed birthplace of new talent, Catch A Rising Star, where she immediately caught the attention of club owner Rick Newman with her powerful voice and Jaggereseque mannerisms.
"I don't try to be masculine on stage," explained Benatar, who emulates such male stars as Robert Plant and Roger Daltry. "I'm thinking about being a male guitar player when I'm singing, but I'm not trying to be masculine. Whatever comes out, comes out."
After several more appearances at 'Star,' Newman became Benatar's manager and began grooming and polishing her for the stardom he was sure was headed her way. In between club appearances and recording commercial jingles for Pepsi Cola and a number of regional concerns. Benatar showcased at New York's Tramps, where her knockout performance impressed representatives from several record companies. Within weeks Benatar had her first recording contract with Chrysalis Records.
As the recording of her debut album got underway, producer Mike Chapman (Blondie, Suzi Quatro) became enamored with Benatar, broke a personal vow not to take on any new artists, and became involved in the project. Chapman (who along with partner Nicky Chinn composed three songs for the record) has stated that "the market wants high energy rock 'n' roll – that's the direction of music," and Benatar's album clearly reflects this belief.
Although Benatar may have outgrown her current band, whose music is more competent than inventive, her vocals are still a joy to listen to and the energy and emotion she projects is nothing short of incredible.
Whether singing in the husky, breathless whispery style of "In The heat Of The Night" (the album's title track) or opting for the rousing, crackle-edged wailing on "Heartbreaker" (her single release) and "I Need A Lover," Benatar doesn't hold anything back.
Her crystalline vocals spark fresh and exciting interpretations of Sweet's "No You Don't," Alan Parsons' "Don't Let It Show" and Nick Gilder's "Rated X," and Benatar pulls out all the stoppers on her two original compositions (along with bass player Roger Capps), the satiric "my clone Sleeps Alone" and the stunning "So Sincere."
"I just started writing and I don't know if I like it yet," Benatar revealed. "it's fun, and it's OK, but I'm not doing it real seriously. If it comes to me, I do it."
Whether or not Benatar becomes a prolific composer is irrelevant as long as the vibrancy and provocativeness of her live performances remains intact. Once worried that her press image would be boring because she is happily married and doesn't use drugs, Benatar dispels any notions that she is the cute, innocent little pixie the moment she steps on stage.
When the music begins, the transformation into the vampish, sensual bitch everyone wants to love and to make love to is complete. Benatar struts and purrs, prowls and growls, and shakes and screams her way across the stage, as if daring the audience to sit there unmoved.
"I'm trying to get as much fantasy out of the audience as I can," explained Benatar. "I want to give them something to fantasize about, something to take them out of their nine-to-five jobs and the things that drive them nuts every day. If they have any problems at all, I want them to just forget 'em while I'm there. I want to get them rocking, get them moving, get them on their feet."
Her current tour is scheduled to continue until mid-December when she heads back into the studio to work on a second album. Benatar promises that the new album will be about three-fourths original material, "a little more crazy," and will be more New Wave influenced, "I like to do modern stuff, English rock 'n' roll, not dinosaur music."
Benatar would also like to try her hand at acting (a la friend Suzi Quatro) in either motion pictures or television, but she's not pushing it, and is willing to be patient and let things take care of themselves. For the time being, she is content to pursue her lofty musical goals.
"I'm real ambitious," Benatar proclaims. "I want it all. I don't want to be mediocre. I can't stand being number two, it drives me nuts." All I have in my face right now is to be the best. I want to be number one."
If audience reaction to her current tour is any indication, Pat Benatar is well on her way to accomplishing just that.