From The Music Paper, July, 1991.
PAT BENATAR: A FRESH LOOK AT THE BLUES
Her hot, new blues deliveries bring a feminist point of view to a genre traditionally associated with the darker sex.
-Anne Leighton
I got the blues, you got the blues, all God's children got the blues...so let's sing the blues. That's what Pat Benatar and her guitarist/husband Neil Giraldo decided to do on their new album, True Love (Chrysalis). Since 1978, when Benatar first unleashed her aggressive voice on the world, she's been one of the top women in rock. Obviously it's a challenge for this 38-year-old fireball to compete with younger female rockers, but, as you'll learn in this interview, she doesn't seem to care.
What's cool about True Love is that it's a genuine blues album, sung and played with honest admiration for the genre. It also helps that members of the legendary blues band Roomful of Blues back Benatar up here. But what's most important is that Benatar's strong voice fits this kind of music, and the songs fit her personality.
The Music Paper: Does this album feel different from the other records you've
done over the years?
Pat Benatar: Oh yeah. It's a whole other thing. And it's like starting over from zero. It's exciting, it's scary, it's all the other things that it is when you're making your first record.
TMP: What's so scary about it?
Benatar: Well, it's just that you don't know how it's going to be accepted. But you have to do it regardless of how it's gonna be accepted. When you make records, you're doing it form an internal place. You're not really thinking about it at the time- what the outside world is gonna think. It's very isolated. After it's delivered, that's when the stuff starts happening, and then you're just curious to see where it goes.
TMP: I'm sure you personally feel good about it?
Benatar: I do. I mean, I love this record. I think it's got a good attitude, positive. It's fun. The songs are great, too. The people who wrote these songs are tremendous.
TMP: It's obvious that you spent a lot of time with song selection.
Benatar: Yeah, it took a long time. We're big blues fans. That's what we listen to at home- rhythm and blues. We have a huge collection of vintage stuff. Basically what we did when we decided to do this was to through all the records and tapes that we have. When we were listening to them for recreation, I'd say in the back of my mind, "If I ever sang this kind of music, I'd sing 'X'." Then we narrowed it down from 500 to 300 to 150 to 50 to 10.
TMP: Some songs seem to have a feminist point of view, like "Payin' The Cost To Be The Boss."
Benatar: Well, they're really written by men. But the thing that happens when they are sung from a woman's point of view is that it turns the meaning around and makes it real humorous and sarcastic. A lot of the songs were chosen for that affect.
TMP: Sounds like a modern woman to me.
Benatar: That's what's so great about these songs. Some of them were written in the '30s, '40s, '50s and '60s. These songs are about the same situations that are occurring now. It's just a real common thread in this kind of music between people.
TMP: But it's easy to find blues songs that are degrading to either yourself or to women. From the beginning of your career you've avoided that attitude.
Benatar: Well, I grew up with the women's movement. And I don't think anybody who grew up in that time is not influenced by it. You know, when you're making music, there are no barriers; there's no gender or race. You're just musicians playing. So it irritates me that life can't get that part together.
TMP: How did you discover "Payin' The Cost To Be The Boss"?
Benatar: Well, we're big B.B. King fans. That's one of his biggest songs. It had a great sentiment and it was something I wanted to say, so we just did it.
TMP: You could relate that song to your whole career.
Benatar: You writers make it so much heavier. (Laughs) It's okay! That's your gig. I just did it because, for me, I always have to sing songs from a strong point of view.
TMP: Attitude is very important.
Benatar: Attitude is a good thing as long as you can back it up. I always knew, once I decided I was going to sing, that I was very driven. I knew I wanted to do that and that was it. When we began, there weren't a lot of women doing it. We had all these goofy people telling me about all the reasons why I couldn't and wouldn't be able to do it. It's just ridiculous. The point is, if you are focused and you really want to do it and you have any talent at all, you're probably going to get there if you stick at it. There's always negatives coming to you all the time and you always have to feel it out.
TMP: You and Neil, your co-partner in crime, have probably taught each other a lot about music and things like that through the years. What's something he's taught you and what do you think you've taught him?
Benatar: We're really not alike at all. On the big stuff we agree, but as personality types we're completely opposite! I am an absolute wire, a lunatic. He is the most laid-back, hang-out person. Nothing riles him. Everything riles me.
The one great thing that he taught me was to just chill out. He's not afraid to do things and I am very caught up...well, not anymore, but I was caught up in doing the right thing and being perfect. His whole thing is "go for the moment. Who cares if it's flat or sharp if it's brilliant?" I'm really interested in "Why can't we have it brilliant and in tune?" I taught him that you can't throw it all to the wind and that you can have a little bit of a plan. He's taught me how to lighten up.
TMP: Roomful of Blues- you've got lots of room for them on this album. Why them?
Benatar: Because I wanted a genuine blues band and these guys have been playing the blues for something like 25 years. They back everybody. We were looking for that swing and we thought these guys were the ones who would do the genuine thing on it.
TMP: Was it hard working yourselves in with them?
Benatar: No, it was great. They were apprehensive; they thought we were going to do a rock 'n' roll record with horns on it. These guys only wanted to play the blues. We used their drummer, John Rossi, besides the horn section. They came in and the minute we started playing together, it just clicked. We cut everything pretty much live, so we were all together in a room doing that. You can't duplicate that when you're doing an overdub.
TMP: Did they teach you specific things about the blues?
Benatar: Yeah, they taught everybody everything. I'm the student; I'm here to learn. The bass player, Chuck Domanico... These people have amazing feel. This is what they do, so it's like, you better get in there and do it too. I'm telling you, once they start playing, you feel it and it's happening.
TMP: I like that answer- "You feel it and it's happening." You didn't get intellectual. I once asked Johnny Winter what the blues was and he said, "Well, if you have to ask, then you don't know what it is!" Is that true?
Benatar: (Laughs) I don't know about that. I'm not that hard on people. I think everyone loves the blues. I went to see Albert King the other night and he said, "If you don't love the blues, you got a hole in your soul!" That I believe! 'Cause how could you not like it? It makes you feel good. It's about real life. It's about common things that happen to common people.
TMP: Doc Pomus told me he felt he had a lot in common with underdogs because of being confined to a wheelchair. He'd say, "I can relate to Ray Charles and B.B. King, all these black people." Do you feel like an underdog?
Benatar: No, but I can sympathize. I'm a real positive person, not a pessimistic person. I don't ever look at my life in those terms. I would never dream of walking in those people's shoes. I didn't live that lifestyle that those people lived. I can only interpret what they're talking about. I never had to go through what Big Maybelle went through or what Koko Taylor is going through. I don't know from their perspective, but I can dig what they're doing. For me, when I do this kind of music it's out of admiration for them, out of respect for them, out of saying thank you for all the great stuff they did for me (through their music). I'm not going to put myself in the same position as they would. I would never be so presumptuous to do do that, do you know what I mean?
TMP: I know exactly what you're saying. And you know, too. You're speaking from your heart, as a student and also a human being.
Benatar: Right. I just don't want anybody out there who's like a blues purist to think I'm being so arrogant to think that I would even know that. That's not what it is at all.
TMP: In "I've Got Papers on You" your voice goes "aaaaa." Where's that from?
Benatar: I don't know, it just comes out when you hear those horns and that shuffle being played; you just sing like that.
TMP: That's interesting. On this record you're becoming a horn and on the other records- were a guitar?
Benatar: Yes, exactly.
TMP: So you become the music you play.
Benatar: Yeah, I mean, the horn section on a rhythm and blues record is like the top. This is part of the whole rhythm section and that really has an influence on what you sing.
TMP: How does a person become an instrument? I mean the instrument you sing along with, not just your vocal instrument. What goes through your head?
Benatar: I never thought about it. It's just something that happens. It's all so incestuous when you're doing it- everything is blended together. You consider your vice to be an instrument. You're not looking at it to be something removed from that. It just occurs. You're just as much a part of it as the drums and keyboards and everything else.
TMP: Lyric-wise, what inspires you?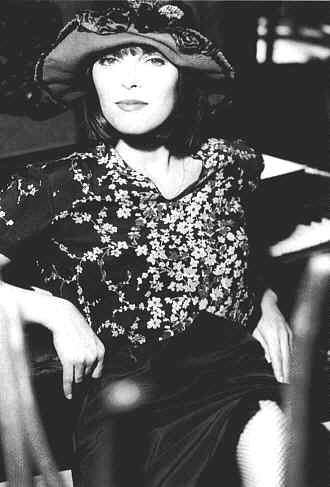 Benatar: Different things. Neil just goes in and sits down and writes songs. There has to be something that stirs me up. I don't just sit there and say, "Oh, I have this idea so let's write this." It's got to be about something. That's why I don't write too often and that's why I don't write about the same thing all the time. "True Love" and "Hell Is For Children" are complete opposite ends of the spectrum. Lyrically, it's just what's getting to me at the time.
TMP: There's a lot of range in you.
Benatar: I think if you can put away your fears, you can find you're not afraid to expose yourself. (On) the early records I was afraid to do that, so I wrote songs from the observational point of view, watching other people's situations. It didn't come 'til later that I was comfortable. I think exposing is the most creative thing there is, letting things go. You get to the real thing.
TMP: I'm seriously into women in rock and have tons of tapes. I know guys are also having hard times getting ahead, but here's so many women who get the casting couch offers or whatever. How do you feel? Do you think women still have a hard time breaking through these days?
Benatar: I think women have always had a hard time and will always have a hard time. As long as men are controlling corporate positions, it doesn't matter what goes on underneath because they're pulling all the strings. They are the ones dictating policy. As long as that's happening, it's going to be a hard row to hoe. But I don't think that anyone should give up. I think everyone should keep going. I do believe that we're taking steps forward, but I don't think that the miracle cure came like we all thought it was going to.
When I was 22 they were handing me the thing, "It's gonna change." It didn't. It did a little, but not enough. And until people stop with the gender thing- stop this"women in rock" and this "men in rock" and all this crap- until they quit doing that- record companies, radio programmers, media people, artists- until you put that away and drop the gender thing, it's not gonna get any different.
TMP: There are females in power or working to get that way. There are some female program directors and A&R people.
Benatar: It kind of makes me nervous. There's a group of younger women who weren't there when it was really bad, when we were trying to change things. They don't understand what the fuss is all about. That scares me more than anything else. They don't know what the hell I'm talking about. "Big deal. We're all getting paid the same thing." They don't get the way it was and the way that it could go back to being and how they should keep pressing forward, and that's very scary.
TMP: Maybe the fans like male musicians more.
Benatar: That's the other thing. People decide who they want to see and who they want to buy. If the general public has not changed in their opinion of what it is, then it's not gonna influence what happens on the other side. If they want to hear men singing rock 'n' roll, then that's what they're gonna buy. That's gonna dictate to radio programmers what they're gonna play and who record companies are gonna sign. It's a big thing. You can't change it overnight. It's very complicated.
TMP: One last question: Is there a part of you that wants to be a big star?
Benatar: No part of me wants to be a big star. I hate it, except that you get a lot of good experiences. You meet people, you can do good things with the money you make; that's the part I like. The other part they can keep- it's not for me.
TMP: What part is that?
Benatar: Getting famous. This is the part I hate most. It's not because I'm being ungrateful, because I love the opportunity that I have. And I had a lot of great times doing what I'm doing. I'm just not comfortable (with stardom). I don't want people to be afraid to talk to me or to treat me badly because they have a perception of what I am. I want to have a real life. I do. I work very hard at keeping it like that.
TMP: You like the career part, the music creating.
Benatar: I'm a singer. That's my job. I can't live without singing. That's the thing that I love the most. I need to sing and I'm happy to be able to do it. I'm happy to be able to move people one way or the other, whether I'm firing them up and making them mad or making them happy or romantic.
Basically, I'm grateful to have been given the gift of being able to sing. I think, "What would be the worst thing that could happen to me? I could lose a leg, an arm, be blind." But I think not being able to sing....I would just die! It's so much a part of my life. I don't know what I would do if I couldn't sing.
Top image from the article, next two are from Chrysalis promo photos.
A concert review from the New York Post, May 16, 1991.
BENATAR BLUES 'EM AWAY
-Dan Aquilante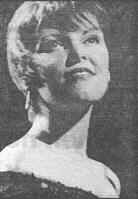 Something old, something new, something borrowed and everything blue is ex-rocker Pat Benatar's motto these days. After more than 10 years of singing "Hit Me With Your Best Shot," she's broken the stranglehold that rock 'n' roll success has had on her.
At the intimate Beacon Theater on Tuesday, Benatar played none of her No. 1 hit songs from the '80s and wasted no time with gimmicks. She just sang the blues. It was a career-crossroads concert, and Benatar proved she is a vocal talent who can handle any style. She used to rock. Now she's singing the blues. And if she tries opera next week I want to be there.
Besides Benatar's excellent voice and fine choice of classic material, lots of the night's success had to be credited to Roomful of Blues, who backed her throughout the show, RFB- longtime studio kings of the blues- have finally found a singer who fully complements them and can stand up to their brassy sound.
Benatar's voice in the new blue incarnation seems less strained than it did when she sang rock.
Albert King's "I Get Evil" was one of the night's best tunes. Benatar had some fine vocal interplay with RFB's five-man horn section in the mambo-flavored number. One of the slower ballad highlights was Maybelle Harris' "So Long".
Petite Pat, dressed in a lace-topped, off-the-shoulder party dress and fish-net stockings, was sultry and steamy as she sang with perfectly balanced coos and growls.
Most of her recently released album, "True Love," was included in the program. Although the disc is a pleasure that will stand up to years of listening, it doesn't deliver the music's passion the way Benatar can in person.
Above photo was published with the review.